Windows 10 Bloat Remover and Tweaker 5.0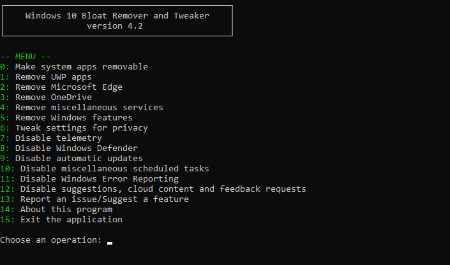 File Size : 4.9 Mb Windows 10 Bloat Remover and Tweaker is a tool designed to help you remove bloatware and disable certain features that usually take up space and sometimes affect the overall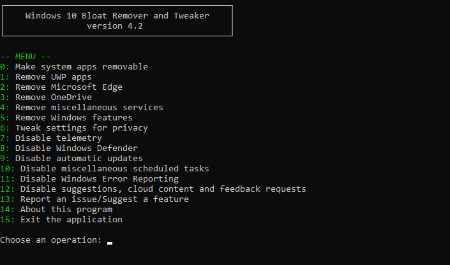 File Size : 4.9 Mb
Windows 10 Bloat Remover and Tweaker is a tool designed to help you remove bloatware and disable certain features that usually take up space and sometimes affect the overall functionality of the system. The application is a CLI tool and hence, does not require installation. In case you want to configure it, then you can do so from the JSON file created after the first launch.
You can remove Edge, OneDrive and other UWP apps
By far the most important feature of the utility is that it can make the system apps removable by editing the internal system database. Therefore, you can now just remove Microsoft Edge along with the legacy UWP version of the browser. Thanks to this tool, you can finally disable Windows Defender along with its background services.
Speaking of UWP, the tool enables you to remove all UWP apps for the current or all users. In case you opt for the latter version, then the corresponding provisioned packages are also deleted and hence, you don't have to worry that they will end up back on your system or update during new patches.
Allows you to disable telemetry and automatic updates
The tool can disable the Windows components responsible for diagnostics and features that tend to collect information in general. Among the disabled options, you can count Device Census, Compatibility Telemetry and Customer Experience Improvement Program.
In addition, the app can turn off certain Windows 10 features that have a negative impact on your privacy, such as voice activation, clipboard synchronization, app launch tracking or typing personalization.
Lastly, the tool disables the automatic update services in the Group Policies and hence it can prevent the download and installing of the new OS and Windows Store patches. Take note that the disabling does not work on Windows 10 Home edition.
A handy tool that can help improve the overall functionality of Windows 10
All in all, Windows 10 Bloat Remover and Tweaker can come in handy for anyone who wants to improve privacy and the overall performance of their machine.
HomePage:

https://github.com/Fs00/Win10BloatRemover

-:DOWNLOAD FROM LINKS:-
Download From RapidGatorDownload From DropApkDownload From NitroFlare
Share this article:
The minimum length for a comment is 50 characters. Comments are moderated.