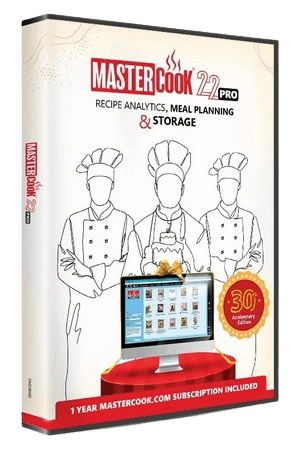 Languages: English File Size: 414.95 MB
Organize your recipes, create cookbooks, and manage diet and nutrition with MasterCook 22, rated 9.8 out of 10 by TopTenReviews. Flexible tools for home cooks and professional chefs to organize all your kitchen and cooking activities.
Custom Cookbooks & Recipes
MasterCook allows you to create as many cookbooks as you wish. You can add, edit, delete recipes from your cookbooks.
Cost Analysis
The Windows product allows you to input costs for ingredients. Any recipes or menus using those ingredients automatically reflect the costs in them.
Nutrition Analysis
The Windows product includes the ingredients from the USDA standard reference library. It recognizes most common ingredients and can give you a nutritional analysis of your recipes, menus & meal plans.
Menus & Meals Plans
The Windows product allows you to easily add recipes or ingredients to menus and meal plans. A menu is a particular course, such as breakfast. A meal plan is several courses over several days.
Pantry & Wine List
The Windows product lets you keep track of items in your pantries. Create separate lists for items in your cupboards or refrigerator or freezer. It also has a separate tool that lets you keep track of wines to categorize and add notes for them.
Recipe Scaling
If you need a recipe to serve different number, just change the servings number, and the ingredient amounts are automatically changed for you. In the Windows product you can also convert the units of measures, such as from teaspoons to tablespoons or cups to quarts, etc.
Printing Templates
The Windows product comes with nearly 20 different print templates. You can edit to customize any of them to print your recipes and cookbooks. The MasterCook Windows product will even create a table of contents and indexes when printing a cookbook.
Group Cookbooks
You can create special group cookbooks to collaborate with other MasterCook users. These can be created from either the Windows product or the mobile apps. You can specify if they are read-only or allow others to add their own recipes to the special group cookbook.
New Features to MasterCook 22
- NEW - Tested on Windows 11
- NEW - Adds your content from a previous version during the installation
- NEW - Backup feature available from the File menu
- NEW - Restore from MasterCook and Restore from Backup feature available from the File menu
- NEW - Merge feature available from the File menu
- NEW - Video player with many more video file types supported (the previous player was QuickTime from the 1990s)
- NEW - Color theme selector (now you can choose what color is used in many of MasterCook's screens)
- NEW - Converts some Unicode characters upon Paste such as fractions so they are recognized by the importer
- NEW - Persistent setting for the Cookbook Browser screen to remember how you were sorting your cookbooks
- NEW - Persistent setting for Recipe Browser screen to remember how you were sorting recipes in a cookbook
- NEW - Ability to adjust the font size of the cookbook titles in the Cookbook Browser screen
- NEW - Ability to adjust the font size of the recipe titles in the Recipe Browser screen
- NEW - Ability to adjust the font size of the table of ingredients and menus within the Meals screen
- NEW - Ability to adjust the font size of the shopping list table within the Shopping screen
- NEW - Resize the photos in a cookbook
- NEW - Cost analysis displays in the Nutrition tab of the Recipe Edit screen
- NEW - Right-click on an ingredient row in the Recipe Edit screen to access the ingredient's nutritional analysis
- NEW - Over 70 additional cooking videos
- NEW - Over 1,250 additional tips in the Tips section of the program
- UPDATE/NEW - Updated the Email Setup dialog box to increase the font size and add a port number selector
- NEW - Branded Foods items from the USDA FoodData Central database
- NEW - Added Sugars nutrient
- NEW - Total Sugar Alcohols nutrient
- NEW - Reset nutrition links in a recipe or entire cookbook
- NEW - Date modified displays in the Recipe Browser
- UPDATE - Improved recipe edit screen for font size adjustments
- UPDATE - Nutrition Facts report label to include Added Sugars
- UPDATE - Nutritional Analysis report to include new nutrients
- UPDATE - Several bug fixes, such as display issues with recipes and meal plans; Tips not saving correctly; user dictionary file not being backed up; and other bug fixes
System Requirements
Windows 8, Windows 10, Windows 11
HomePage:

N/A