Batch JPEG Rotator 2.77 (x86)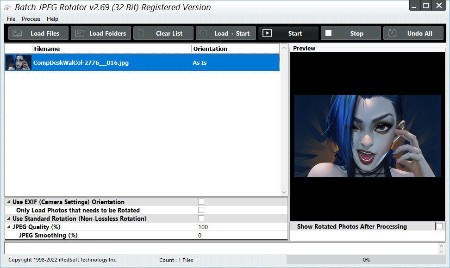 File Size: 24.4 MB Batch JPEG Rotator allows you to batch rotate JPEG images without sacrificing image quality. JPEG is the widely used image format for digital photographs because it supposed true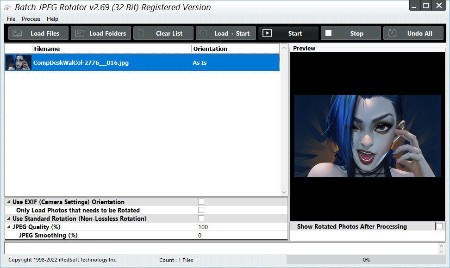 File Size: 24.4 MB
Batch JPEG Rotator allows you to batch rotate JPEG images without sacrificing image quality.
JPEG is the widely used image format for digital photographs because it supposed true colors (16.7 million colors palette) and the image quality to file size ratio is unbeatable. JPEG uses a 'lossy' algorithm which reduces file size significantly as some level of image quality is sacrificed. At the 1:1 ratio, the loss in quality is not significant but when you enlarge the image, the pixelization would be more evident. Because of the lossy algorithm, each time the images are re-saved, the image quality would fall further. This 'lossy' algorithm is what makes JPEG so popular but it can be a burden.
As photographers, it is not uncommon to take both landscape and portrait images so as to capture that special moment in time. The camera is made for Landscape images and not for Portrait images. On the camera, we could just turn the camera to take those portrait shots but the images would appear as landscape images. In order to bring it to perspective, we will need to rotate the images. However by doing so in JPEG means that there would be some level of image quality loss.
The Answer is in Batch JPEG Rotator. It applies a new technology which allows for true lossless JPEG Rotation. What this means is that no matter how many times you start rotating the JPEG images, the image quality would remain with no loss whatsoever.
Whats New
https://www.batchimage.com/product-updates/batch-jpeg-rotator-v2-71-released/
HomePage:

https://www.batchimage.com

-:DOWNLOAD FROM LINKS:-
Download From RapidGatorDownload From DropApkDownload From NitroFlare
Share this article:
The minimum length for a comment is 50 characters. Comments are moderated.