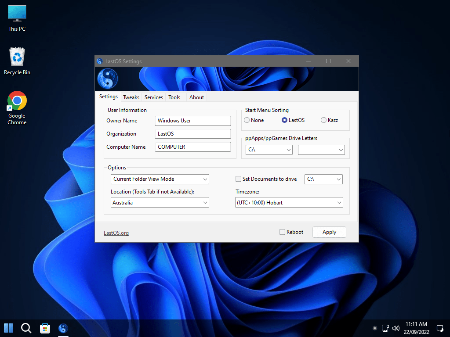 Windows x64 | English US | File Size: 6.05 GB
We have tweaked this version of Windows 11 to feel familiar and fast, not forcing you on to a desktop that has tools and features that will distract and slow you down. Our focus was to keep it simple and bring all the features of LastOS you have come to expect.
Note
: Run ssWPI first from the LivePE and pick the applications you want installed at the end of the installation. You do NOT need to select DirectX 9, MS Runtimes (Except Dot.NET 6), Notepad3, MyWallpaperLive or StartIsBack as thes are already installed (they are included so you can apply them to other non Last11 OS's).
General Info
File: Last11_v2_x64_2023-03-14.ISO
Size: 6.05 GB
CRC-32: 9de3954f
MD4: 0ab64f9fae49b14f468e38d20e6f52e6
MD5: d3ca22757569960becfc15f175b06d61
SHA-1: a2ca60d1ed9d5352b075b363e6c615caeb56aaaf
Included Apps
!Disable Tabs In Explorer v1.0
!Disable Windows Search v2017.05.27
!Enable Tabs In Explorer v1.0
!Sort As LastOS Menu v1.0
!Sort As Standard Menu v1.0
10 Second Ninja
7-Zip v22.01
Advanced Renamer v3.88
AIMP v5.11.2421 x64
Apply Last11 Tweaks 2023.03.14 x64
Apply Minimal Win System Protection Settings v2015.09.04
Apply Quick Launch Toolbar (1 Line Version) v2.0
Atlantis Word Processor v4.2.2.5
CPU-Z v2.04.0
Defender Control v2.1
DirectX Runtimes v9.29.1974.1
Driver Magician Lite v5.42
Games Launcher v23.03.13.0
Google Chrome v110.0.5481.178
GPU-Z v2.52.0
Hash Tab v6.0.0.34
IrfanView v4.62 x64
K-Lite Mega CodeC v17.4.5
KMS VL ALL AIO (Activate Windows & Office) v49
KMSpico (Activate Windows & Office) v10.2.0
MediaInfo Lite v22.12
Microsoft OneDrive v23.023.0129 x64
MS .NET 6 Desktop Runtime v6.0.9.31620
MS Visual Runtimes AIO 2023.03.02
MyWallpapersLive v2.5
One Click Firewall v1.0.0.2
Partition Wizard Technician v12.7 x64
Paste As File v5.0.0.5
qBittorrent v4.5.2 x64
Rufus v3.21.1949
Sanitize v1.22.6.29
SetupS SendTo Suite v23.03.13.0
Speccy v1.32.803
StartAllBack (ClearDark) v3.6.2.4650 x64
Steam v7.15.3.72
TeraByte Image v3.56
TreeSize Pro v8.6.1.1764 x64
UltraISO v9.7.6.3829
Unlocker v1.9.2
WinRAR v6.21
WizFile v3.08
WizTree v4.12
Features
* LivePE - This is for Backup, Recovery, Repair and installing your Last11 OS, it has some music included that auto plays when you boot it up, you can change the mp3 files in the X:\Music folder to have your own taste of music available.
* ssWPI - This will allow you to select which apps/games you want installed (if you run it from the LivePE it will install the application after the Last11 installation completes.
* Intro Movie - Instead of the "Getting things read screen" I have made the X:\sources\$IntroMovie\IntroMovie.mp4 play, as the Graphics drivers are not installed and the system is very busy, I recommend if you replace this movie with your own to use a low framerate video where it deosn't matter if the motion isn't smooth.
* Settings - The first thin you see when your PC setup is complete is Settings, this allows you to set the PC name etc. I recommend you configure your drive letters and use this tool to move your Documents off to another partition/disk. You can right click the Downloads in explorer's Quick Link and change it's location to another drive also.
Notes & Tips
* If you Select All in ssWPI make sure to untick StartIsBack and MyWallpapersLive as these are installed by default at $PostLogonApps and may stop installation of the apps if you try to re-install them without uninstalling/exiting them.
* This release does not have Explorer Tabs enabled as the Beta builds are unstable and will be automatically downloaded with Windows Updates once they become stable (Moments 1, Due October 2022)
* You can sign in with your Outlook/MS account using Microsoft Settings and use the existing "password" to enable it, this will keep the User folder for your user, so all the apps and tweaks will still be enabled for you and all the online and onedrive features will work as expected. Store will allow you to access your apps/data.
* We have only removed Chinese/Japanese and some Retail Demo files/user. so all features are available to re-activate.
* Start All Is Back can be accessed by right clicking the start button and choose "Properties", This allows you to modify or disable it for the current user, if you are wanting the default Windows 11 experience.
* You can add your own Locale to install by copying the AutoUnattend_USA.xml and naming it whatever suffix you will recognise (it will show up in the LivePE), then edit the Keyboard Layout, Time Zone etc.
* By default you should always reboot after your installation has fully completed and you've configured your applications the way you want, including any updates and settings. Let it boot back into windows again before capturing an image with 'Terabyte Image For Windows' or your preffered backup software. This allows updates to be applied fully and your OS to process any scheduled tasks.
* You can disable the Live Wallpaper by default by using Autoruns or Task Manager to disable or remove MLWApp.exe from startup. If you never want it on any installation; remove the "X:\sources\$PostLogonApps\MyWallpapersLive_v2.5_Last11_NoAutoStart_ppApp.exe" from the ISO/USB.
* You can disable the Music in the LivePE by removing X:\ppAppsLive\zzMPC-BE_x64_ppAppLive folder, this will not affect using MPC in the PE.
* You can disable the intro movie by removing/renaming X:\sources\$Scripts\Run_00_IntroMovie.cmd, you will see all the behind the scenes scripts on first boot. Do not reboot your PC until it's at the desktop with no command windows open. You can close the Intro Movie by clicking it once and pressing Alt+F4 without needing to disable the script mentioned.
* You can edit the X:\sources\$ssWPI\ssWPI_Options.ini HideMenu=No to show menus again by default, I thought it was time to try the modern minimalist approach.
* You can download new applications to include on your ISO/USB from:http://www.lastos.org/forum/index.php?link-forums/application-repo.148/
once you have downloaded them, drag them into the "\ppAppsInstalls" or "\ssAppsInstalls" folder checking the filename to know which one it belongs in. * Note: You may have to manually update ssWPI databases (Rescan for items) by pressing F5 in ssWPI if you update applications.
You can even use these downloaded applications without ssWPI on any PC by installing:http://www.lastos.org/files/SetupS-files.htm and downloading the latest: SetupS.SendTo.Suite_vx.x.x.x_ssApp.exe and manually installing it first.
* Take Ownership - if you find your unable to access certain files/folders on your PC after installing, simply right click them and pick "Take Ownership" this will allow you to have full access again. If you have a large amount of folders/file to take ownership of you can use the X:\Appz\ResetPermissions.exe tool to do this quickly.
* Spotlight doesn't always change the lock screen (on any fresh Win 11 install), to fix this go to Settings/Personalize/Lock Screen/ change it from "Windows Spotlight" to Picture or Slideshow, then change it back.
* Widgets are off by default, right click the traybar and tick "Show Widgets button:, you must be signed in with a MS account for this to work properly.
What's New
Added Updates For Windows, Added Apps and Updated To Latest Versions And Other Changes Described In This Post.
-:DOWNLOAD FROM LINKS:-
Download From RapidGatorDownload From NitroFlare